Xenu Link sleuth is an oldie but a goodie for Pc users who want to do basic check s on their site. It is free, simple and effective
Here is how to use it for the first time.
Step 1 – Download it here:
http://home.snafu.de/tilman/xenulink.html
Step 2 – Start it (obviously) And click 'Check URL'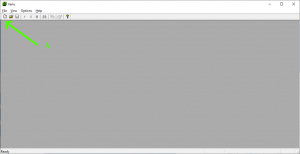 Step 3 – Enter the URL to check.
Use https:// or http:// at the beginning so you test the secure / insecure version you want to check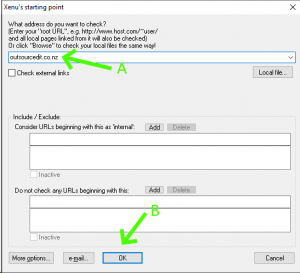 Step 4 – The results start showing
Step 5 – The results are complete
Click 'Yes' you do want a report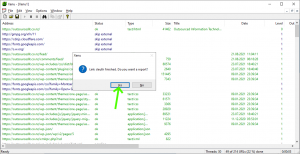 Step 6 – Click No – you don't want a remote results check
This part is for geeks who love FTP, finding orphaned pages and doing other server based stuff. Its good to use – but if you don't know what FTP is, how to access an FTP site etc – don't use this.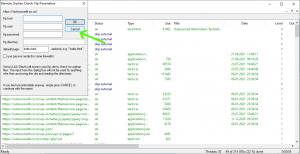 Step 7 – The results page shows.
At the top are links to parts the report. They are handy to skip things you don't want to know and get to what it is you need. For beginners the most useful ones (IMHO) are highlighted in yellow below.
Table of contents
Broken links, ordered by link

Broken links, ordered by page

List of redirected URLs

List of valid URLs you can submit to a search engine

Site Map of HTML pages with a Title

Broken page-local links
Orphan files

Statistics for managers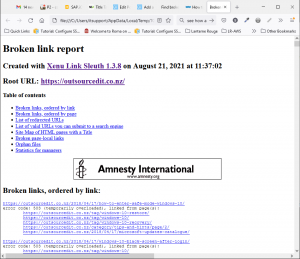 The summary at the end is a good summary of the number of issues (and successes) your site has.
All pages, by result type:
| | | |
| --- | --- | --- |
| ok | 183 URLs | 44.31% |
| skip external | 27 URLs | 6.54% |
| temporarily overloaded | 202 URLs | 48.91% |
| not found | 1 URLs | 0.24% |
| Total | 413 URLs | 100.00% |
Step 8 – Here are the page titles as will be seen on Google